Thumri
Some of the most commonly used ragas are Pilu, Kafi, Khamaj, Gara, Tilak Kamod and Bhairavi. The compositions are usually set to kaherava taal of 8 beats, addha tal of 16 beats, dipchandi of 14 beats or jat of 16 beats.
Origins
Thumri arose in popularity during the 19th century in the Lucknow court of nawab Wajid Ali Shah. At that time it used to be a song sung by courtesans accompanied by dance. That was the bandish ki thumri or bol bant ki thumri. When this style of thumri went out of vogue, a new style became more popular, which is known as bol banao, sung in Varanasi.
Noted Thumri artists
Purab Ang
Famous artists of the 'Purab Ang' thumri' of the Benaras gharana or Banaras gayaki are Badi Motibai, Rasoolan Bai, Siddheshwari Devi, Girija Devi and Pandit Channulal Mishra.1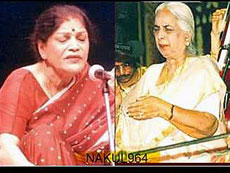 Classical Thumri
Other famous singers of thumri are Gauhar Jan, Begum Akhtar, Shobha Gurtu, Noor Jehan and Prabha Atre. Shobha Gurtu is often regarded as the thumri queen. The bol banao style has a slow tempo and is concluded by a laggi, a faster phase where the tabla player has some freedom of improvisation.
Another stalwart in the genre of thumri was Naina Devi, who was married to a royal family but later devoted her life to the singing of the song of Tawaifs. For a member of the royal family to take such a step in those days meant fighting countless social stigmas that had enough power to totally alienate someone from the society, but she had the support of her husband.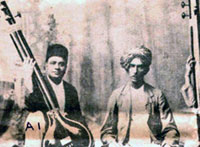 Some khyal singers took an interest in thumri and sang it their own way, as in the case of Abdul Karim Khan, Nazakat-Salamat Ali Khan, Barkat Ali Khan, Bade Ghulam Ali Khan and Prabha Atre[1]
Today thumri is sometimes sung at the end of khyal concerts as a concluding item. Besides the tabla and the tanpura, other typical instruments in thumri are sarangi, and swarmandal.


Lyrics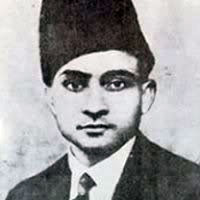 Many classical singers pay considerable attention to the lyrics, though they may be difficult to follow in the ornamented enunciation. This is especially where the focus is on love, and many lyrics deal with separation or viraha. Krishna's ras leela or love play with Radha and other gopis of Vrindavanappear frequently. As an example, here are the lyrics of a thumri composed by the medieval poet Lalan, celebrating Krishna's flute – how its tunes are driving Radha mad.Braj or Vrindavan is where Krishna is indulging in this love play; Radha is the "girl of Braj".