Anjanibai Malpekar
(1883-1974)
BOMBAY MUSE

Anjanibai Malpekar was born in Goa on 22 April 1883. She was a member of the Goan Kalavant community.
The Kalavants were professional entertainers who passed on dance and musical skills from one generation to the next. Kalavant women were the Goan equivalents of devadasis. Both Lata Mangeshkar and Kishori Amonkar are of Kalavant origin.
The Kalavant culture was supported by Goa's wealthy Goud Saraswat Brahmins. The Gaud Saraswats founded many of Goa's famous temples and supported Goa's devadasi system which dates back several centuries.
Gaud Saraswats started migrating to Bombay at the end of the 19th century. Anjanibai with her mother and grandmother left Goa at around the same time. Anjanibai in fact is one of the earliest Kalavants to make her reputation in Bombay. Professional women singers in a metropolitan context so early were rare and she is a pioneer in this regard.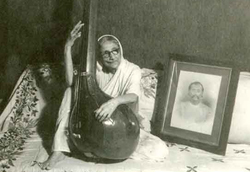 Anjanibai started training in 1891 at the age of eight. Her guru, Ustad Nazir Khan, was the founder of the Bhendi Bazar gharana, named after the Central Mumbai area in which he lived.1 The Bhendi Bazar gharana's style of singing emphasizes tonal inflections (shrutis) bringing out the unique aesthetics of each raga. Its most famous exponent was Aman Ali Khan who unfortunately died young.2 The gharana is dying today. This is attributed to his untimely death. Another famous exponent closer to our times was the Ustad Amir Khan.
Anjanibai was one of the contributing members of this gharana. Her vilambit-laya style of singing in which she hits each shruti slowly and accurately helped make it famous all over the country. This 'wave-like' singing as opposed to a staccato style is a distinguishing feature of the Bhendi Bazar gayaki. Kishori Amonkar trained under Anjanibai and the 'glide'(meend) she learnt from her is a distinguishing feature of her singing.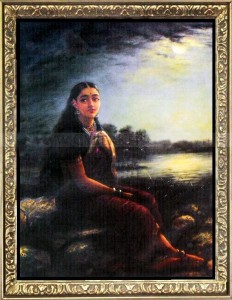 Anjanibai debuted in Bombay in 1899 at the age of 16. She was an immediate success and was patronized by industrialists and rulers of princely states all over the country.She was also very beautiful and Raja Ravi Varma's Bombay muse. Lady in Moonlight3, Lady Playing Swarbat4 and The Heartbroken5 were some of the paintings she inspired.
Her beauty, however, was as much of a curse as it was a boon. Audiences at the time were almost exclusively male and she faced sexual harassment regularly. Singing became associated with trauma and in 1904 she lost her voice for a year. After regaining it she resumed her career but Ustad Nazir Khan's death in 1920 was a great blow and her performance at Mumbai's Town Hall in 1923 was the last one of her public career. She decided to retire. She was only 40 years old at that time.
Anjanibai did not have an easy retirement. In 1928, Vasanji Ved, her Gujarati businessman husband, passed away. He had suffered business losses and their family properties and possessions were sold to repay debts. Later in life, Anjanibai, returned to the world of music although it was as a teacher and not a performer. She taught several of our 'greats' such as Kumar Gandharva and Kishori Amonkar. Kumar Gandharva was her first disciple. She was greatly moved when he was once performing at her house and impulsively decided to make him her student. Kumar Gandharva never tired of acknowledging his debt to 'the great lady' as he once referred to her. Kishori Amonkar was one of her favourites and Begum Akhtar, Naina Devi and Lata Mangeshkar all studied under her for varying periods. Professor Bhatkhande had also turned to her for help in compiling rare ragas.
Anjanibai Malpekar died in August 1974 at the age of 91. She received a fellowship from the Sangeet Natak Akademi in 2009 but her contribution to Hindustani classical music is worth infinitely more. She remains an unsung genius.
Geeta Sarabahi the great patron and archivist had the opportunity to meet and learn with Anjanibai. In an exclusive interview with CMAC she shares her experiences with her. Watch excerpts on clicking this link
More Photos