Music arrangers
O Maria ! O Maria !
tu chali aa/bhej de yaa/email se love letter/ goriyaa, sung by Remo Fernandes.1
The Indian/Western cultural debate no longer bothers us. Emran Hashmi is celebrated as the 'smoocher' and Chetan Shashital pays a tongue-in-cheek tribute to Saigal. Time has spilled into a new era. And we have an Oscar to show for it. Jai Ho!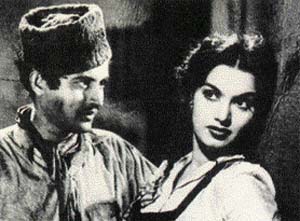 Just after Independence, B. V. Keskar, Minister of Information and Broadcasting, took the decision to promote 'Indian' classical music over all other kinds of music. Film music was taken off Vividh Bharati and 'Western' weren't even considered. 2. The search for 'origins' is becoming increasingly irrelevant but this was not true of the period just after Independence. In the late 50s Walt Disney was to make India's first animation film and Anthony Gonsalves, a brilliant violinist and composer, had been chosen by it to score the music3. The film project was never cleared by the Indian government. Some say this was because Anthony Gonsalves was Christian and not considered sufficiently representative of India.4
Keskar's decisions made history though not as he envisaged. Ameen Sayani was constrained to take Binaca Geetmala to Radio Ceylon which made a fortune in advertising money. And the neglect of Western music after Independence, led to the unique contribution of Goan musicians to the Hindi film song.
Hindi film music by the forties had developed and matured to the extent that it needed larger orchestras and more instruments Musicians had started experimenting with harmonic music creating the need for music arrangers. Almost all Indian music arrangers were Goan. Their job was to compose the harmonics component and integrate it with melodies. Arrangers, wrote the music for the newer instruments such as the violin, the clarinet and the drums, composed the score and worked out the bridges between its various parts. They had a huge part to play in the overall sound of the song.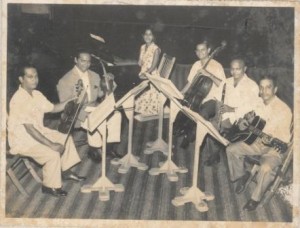 Anthony Gonsalves was one of the industry's first music arrangers. He found work with Shyam Sundar as a violinist in 1943 at the age of 16. He soon graduated to 'arranging' music for him, fully orchestrating several of his songs. He also worked with Ghulam Haidar, Anil Biswas, Naushad, O. P. Nayyar and Madan Mohan and was indispensable to some of them. With the introduction of magnetic recording in the 50s, composers became more experimental. C. Ramachandra introduced 'swing' into Bollywood with tunes such as Gore Gore O Banke Chore (Samadhi) and Shola Jo Bhadke (Albela). ongs such as these would not have been possible without C. Ramachandra's collaboration with Chic Chocolate, a Goan trumpettist who led a Jazz band at the Taj Mahal Hotel in Bombay and was Bombay's bestknown jazz musician. He has almost been deleted from history. His family was in possession of some photos and few gramophone discs which is all that remains of his music.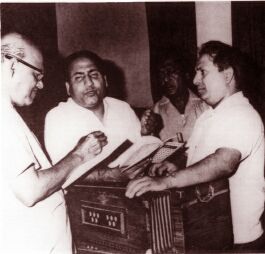 The most famous of Bollywood's music arrangers so far is Sebastian D'Souza. He created scores for over 125 films and over 1000 songs. He began work with O. P. Nayyar arranging music for everlasting hits such as Sun sun sun Zalima (Aar Paar) and Mera Naam Chin Chin Choo (Howrah Bridge) . His creative influence on Hindi film music is immense and can never be emphasized enough. Prior to him, film music followed the song's melodic line. But he created a "full body of sound behind the voice of the singer" which soon became a constant.5 This is what created the "sound of the golden 50s" and is largely due to him. His collaboration with Shankar Jaikishen from 1952 till 1975 on films from Awara to Pran Jaye Par Vachan Na Jaye yielded and numbers such as Jeena yahan marna yahan or Ae mere dil kahin aur chal which are permanently lodged in the Indian consciousness.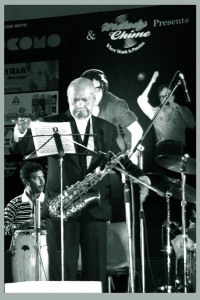 Hindi film music of the seventies and eighties was dominated by R. D. Burman who composed music for a restless generation with rock, jazz and disco rhythms.Dum Maro Dum(1972) and Chura Liya (1975) are cult numbers and are being continually remixed. Manohari Singh6, an alto saxophonist from Kolkata, who started off as S. D. Burman's arranger, remained R. D's collaborator till the very end in 1994 when he wrote the music for 1947- A Love Story.
The extent of a music arranger's contribution can be gauged by listening to Aradhana's all-time hit, Roop Tera Mastana (1969). S. D. Burman has been officially credited for its music but there were critical inputs from Kishore Kumar and Manohari Singh and his collaborator Vashu7. If you listen carefully to the song, Manohari's 'bluesy' saxophone solo midway through8 is critical to its overall sound. It injects an intimation of tragic love into the song's storm of sexual desire and its accordion-induced 'swing' of excitement, adding a troubling note of disquiet which seems to come from deep within it. Roop Tera Mastana is far from simple. It is not a cult classic for nothing.
The Hindi movie song shows how 'nationalism' cannot be engineered and how national identity is more in the nature of a fluid and living energy. The Hindi movie song, at its best, is a seamless blend of diverse influences resulting from the dynamic synergy which has been at work in the Indian film industry right since its inception.
More Photos