Deepti Priya Mehrotra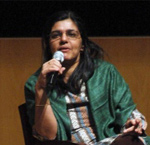 Deepti Priya Mehrotra teaches at Lady Shri Ram College, University of Delhi. She is the author of three books – Home Truths – Stories of Single Mothers, Gulab Bai – The Queen of Nautanki Theatre and Burning Bright – Irom Sharmila and the Struggle for Peace in Manipur.
She speaks here about nautanki artist, Gulab bai.