Gauhar Jan
(1873-1930)­­­­­­­­
THE DIVA
Gauhar Jan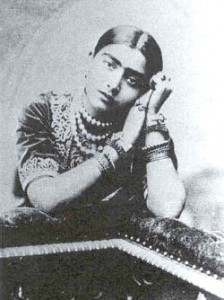 was one of 20th century-India's greatest performing artistes. She was Kolkata's best known courtesan who, in 1902, became the first classical singer to record for England's Gramophone Company. In fact the very first record released in India was a khayal composition in Raga Jogiya sung by her.
Gauhar's was an uncommon ancestry. Christened Eileen Angelina at birth, her parents were Robert Yeoward, an Anglo-Armenian, and Adeline Victoria who had a Hindu mother and a Jewish-English father. After Adeline was deserted by her husband (or the other way round) converted to Islam, became a renowned courtesan and took on the identity of Malka Jan. Angelina too was renamed Gauhar. There is speculation that Malka's Hindu mother, Rukmini, was once also a courtesan. If true, this would establish Gauhar's descent from a tawa'if lineage, as was usually the case with courtesans.1
Gauhar's rise to the top was quick as lightening. A disciple of Kathak maestro, Bindadin, (the celebrated Birju Maharaj's grandfather), she was an accomplished dancer. And like her mother, she was an excellent poet. Gauhar was devoted to Krishna and her compositions to him are popularly sung even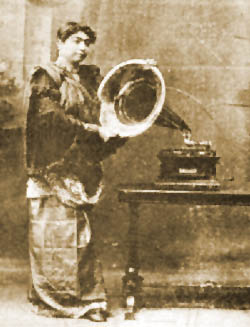 today (for eg, the bhajan like "Krishna Murari Binat Karat").
Gauhar had an experimental approach to music and a scintillating personality. She was not just a celebrity, she was a diva. She was among the first musicians to adapt the raga to the 3-minute gramophone format which attests both to her musical genius as well as her audacity and willingness to take risks.
Recognized by her times as a musician to reckon with, she had an exceedingly sweet and pure voice and sang accurately across a wide range of pitch and speed. She could sing tans sung at an unheard of speed of MM=300 and at a pitch of 7 black notes as compared to the usual 4 black notes2. She had been singing Tagore songs (rabindra sangeet) long before their crystallization into a genre and was in the habit of setting them to melodies of her own composition – a privilege the poet accorded to none but her. V. N. Bhatkhande, Hindustani classical music's foremost theoretician, paid tribute to her as one of the country's best khayal singers and after attending one of her concerts, D. P. Mukherjee, a prominent musicologist, said – "She sang a dhrupad in Adana, a dadra in the same raga. And yet a third khayal in Adana. Since then, I have found it difficult to concentrate on Adana even when it is sung by the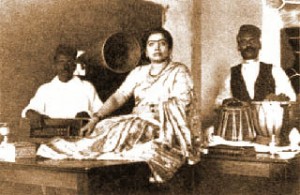 best in the country."
Gauhar Jan's career covered a time when the movement for Indian independence was gathering steam. The music of North Indian courts was being incorporated into a new 'national' culture. But it was underpinned by middle class morality which left the tawa'if out
in the cold. Gauhar was able to reinvent her professional persona to suit the times. She recorded discs and performed at both mehfils and ticketed concerts. Adapting her personal life to the suit the bourgeois ethos however, was another matter.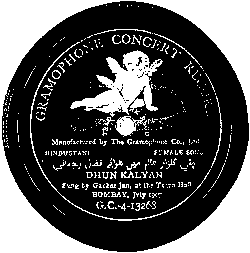 Gauhar had had liaisons with zamindars but such a lifestyle belonged to the past. Then in 1905 at the age of 32, she began a relationship with Amrit Keshav Naik, a theatre actor and director from Bombay. He died prematurely in 1907 and it was a downward slide after that. In 1913, she entered into a disastrous mutaa (contract marriage) with her manager who ruined her financially and reduced a star of her caliber to seeking patronage. Musically, however she was as brilliant and flamboyant as ever. She performed for Lord Irwin, Viceroy of India, at Rampur in 1926 and sang at several private mehfils in Bombay.
In 1928 she obtained an appointment as musician to the court of Mysore. But she suffered recurrent bouts of depression and her health was failing her. She died in a Mysore hospital on 17th January 1930 with only her maid and a manservant by her side.
In the ensuing years, she faded into obscurity. Collectors have managed to preserve 150 of her discs.