Zohrabai, Amirbai and Rajkumari
PLAYBACK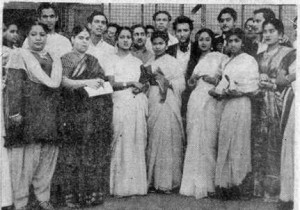 The market for female playback singing in the forties was shared between Zohrabai, Amirbai Karnataki and Rajkumari. Zohrabai was the most popular – she sang a little over 1200 songs from 1941 to 1950 as compared to Amirbai's 250. The voices of these singers are intimately associated with the music of the forties. They evoke nostalgia for the time immediately before Lata Mangeshkar's implacable and unstoppable rise.
A new situation was evolving at the time in the Hindi film industry. And new music to go with it. Playback singing had become an established professional category and the top singers of the next decade and beyond (Lata Mangeshkar, Asha Bhonsle, Mohammed Rafi, Kishore Kumar) all entered the market in the forties. Naushad and C. Ramachandra also made their debut and the Hindi film song was becoming a vibrant and distinctive art form.
The forties was a very happening time. It saw the beginnings of the formula film, typically a love story, preferably with a triangle and with 7 or 8 songs – such as Rattan (1944) – the film which took Zohrabai Ambalewali (ankhiyan milake, saawan ke badalon) and its music director, Naushad, right to the top. Naushad played a definitive role in shaping the Hindi film song as we know it. He made it an entity in its own right which could hold its own, independent of the film and its formula. "He succeeded in meaningfully tightening the musical concept of a 'film song' as distinct from 'singing in a film'"1. His songs were well-crafted and needed to be well-rehearsed. They demanded a greater degree of professionalism and musical training2. It is within this evolving context that Zohrabai, Amirbai and Rajkumari performed.
Zohrabai Ambalewali (1918-1990)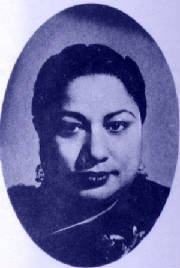 Zohra Khatoon was born in 1918. She came from a family of professional musicians. She began her career at the age of 13 recording thumris for HMV. She entered the film industry as an actor-singer in the thirties. The first song she sang is a matter of debate. Some say it was for Daku Ki Ladki (1933) whereas others say that it was in Gramophone Singer (1938). She had a voice with a personality. It had a nasal quality reminiscent of the earlier half of the forties. It was a lively voice and potentially versatile but composers limited her to fast-tempo songs (Naushad's Chale gaye (Pehle Aap, 1944)3 and Saqi dil bujh gaya hai (Geet, 1944)).4 She was probably capable of greater expressivity but this quality was neglected.
She sang the last song of her playback career for Nausherwan-E-Adil – Mere dard-e-jigar ki har dhadkan 5– with Chandbala and Asha Bhonsle. However, she continued to sing, till her death in 1990, at the performances of her daughter Roshan Kumari, a well-known kathak dancer who danced most famously in Satyajit Ray's Jalsaghar6.
Amirbai Karnataki (1906-1965)

Amirbai Karnataki was also an actor-singer and has around 17 films to her credit.7 But she is better known as a singer. Mahatma Gandhi was an ardent fan of her song Vaishnav Jana To.8
Amirbai was born in Belgi, Karnataka, to a family of straitened means. She came to Bombay at the age of 15. At first she recorded for HMV but her actor-sister, Gauharbai, helped her get work in films. It was a long haul, however, and it was only after she sang for Bombay Talkies' Kismet (1943)9 that she became sought after as a singer.
Amirbai's voice was untrained but she was naturally gifted and her voice, though thickish, was quick and fluid. She could sing in a wide variety of registers – playful numbers for C. Ramchandra such as Gori gori o banki chhori (Samadhi, 1950)10 and emotional songs too such as Aansoon thi meri zindagi (Bikhare Moti, 1952)11. Despite her lack of training, she sang a thumri – Chanda des piya ke12 – in Bhartrihari, 1944. Amirbai also composed the music for Shehnaaz (1948)13.
She had a troubled personal life which, some say, impacted her career negatively. She was in an abusive relationship in the thirties with actor Himalaywala who later emigrated to Pakistan. She later married Badri Kaanchwala who was the editor of a magazine in Gujarat. In fact she almost left Mumbai for Gujarat when her career started going downhill after Lata Mangeshkar's arrival on the scene. But she continued acting, playing character roles into the sixties. She suffered a stroke in 1965 and died four days later. Amirbai was buried in her hometown.
Rajkumari (1921-2000)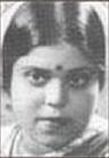 Rajkumari Dubey was born in Benares where she received some training in classical music. She joined the film industry at the age of 11, as a child artist for the film Radhe Shyam aur Zulmi Hans (1932) She worked for awhile in theatre before returning to films, as a paid actor-singer for Prakash Pictures. Her song, Mai albeli chhail chhabili (Bambai ki Sethani, 1934), made her popular. In the forties, she restricted herself to singing – she said she was tired of watching her weight ! She had a narrower voice than Zohrabai and Amirbai and she sang for a 100 films before her career started waning in the early fifties. She died in 2000.
The forties was an age of competition which only became fiercer over time. The studio system of the thirties had given way to a proliferation of independent producers. Actors, composers and singers no longer worked on a contractual basis. They were 'freelancers' trying to corner as much of the market as they could. The better and stronger survived, the others faded away.
It was in the forties that cinema came into its own as a genre. Cinematic style became less theatrical. Dialogue delivery became more natural and so did the singing. And it was here that singers like Noor Jehan and Lata Mangeshkar triumphed. Their voices were thinner and therefore better suited to the microphone. They were also incredible singers. Noor Jehan injected a degree of passion into her singing unmatched by anyone else. But she left for Pakistan. And Lata Mangeshkar's Aayega Aayega in Mahal (1949) together with her technical proficiency, established a new prototype edging out all existing competition.
Rajkumari's best songs
http://www.youtube.com/watch?v=dIk_MdI9gB8
– great duet with lata mangeshkar for film
anhonee
singing for nargis in a double role
http://www.youtube.com/watch?v=qz79VNJbmKI&feature=related
– duet with zohrabai ambalewali in mahal
http://www.youtube.com/watch?v=vXpFiVYmUrk&feature=related
– solo in mahal
http://www.youtube.com/watch?v=VvIPqxyI-EQ&feature=related
– second solo in mahal
Photos zohrabai and amirbai – http://www.hindisongstt.com
http://cineplot.com/music/rajkumari-solo-1931-1940/ – rajkumari's photo
http://cineplot.com/music/rajkumari-interview/ – link to rajkumari interview
A rare photo of all the singers together in the early years of their singing careers !    Can you spot
( front row) Zohra Jan, Rajkumari, Amirbai Karnatki, Hamida Banu, Geeta Roy (later Geeta Dutt), Lata Mangeshkar, Meena Kapoor, – rajkumari wasn't joking when she said she left acting because she was tired of being on a perpetual diet! (and standing behind) Sailesh Mukherjee, Talat Mahmood, Dilip Dholakia, Mohd. Rafi, Shiv Dayal Batish, G.M. Durrani, Kishore Ganguli (later Kishore Kumar), and Mukesh.
1 Ashok Ranade, Hindi Film Song-Music Beyond Boundaries, Promila & Co., Publishers, New Delhi, 2006, p. 195
2Ibid., p. 19
3http://www.youtube.com/watch?v=irHrl5uE3vI
4http://www.youtube.com/watch?v=zrpRmc2cEsw
5http://www.youtube.com/watch?v=J-Ln4-oJDkw
6http://roughinhere.wordpress.com/2010/11/28/finally-a-little-more-info-about-roshan-kumari/
7
8http://www.youtube.com/watch?v=qfajWdSRI3g
9http://www.youtube.com/watch?v=6ZxivtLxYlY– dheere dheere aa re badal with Ashok kumar
10http://www.youtube.com/watch?v=z7U4MrIZvk8
11http://www.youtube.com/watch?v=HmdORrHOvVw
12http://www.youtube.com/watch?v=5olkgMb4q0A&feature=related
13http://www.youtube.com/watch?v=GmkiEGrKGZU