Silent Film
SILENTLY, AS IN A DREAM
My shadow appears on the screen as in a dream and dreams do not speak. (Charlie Chaplin, 1930)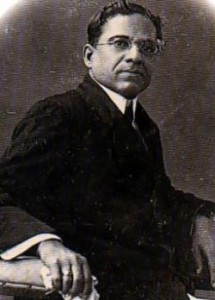 Dadasaheb Phalke, the man who gifted India its first film – Raja Harishchandra – in 1917. Dadasaheb Phalke, the legend who paved the way for the Indian film industry. Dadasaheb Phalke, the father of Indian cinema. Dadasaheb was all of these. But why? Is it simply because he made the 'first' Indian film, or for other reasons too?
The Lumière brothers' showed their cinématographe in Paris in December 1895. It arrived in India in July 1896 and had a successful run at Bombay's Novelty theatre. India with its masses of uneducated people was fertile ground for the new medium which had the potential to develop very fast. All that was needed was a suitable cinematic grammar and style. This is the first of Dadasaheb's achievements.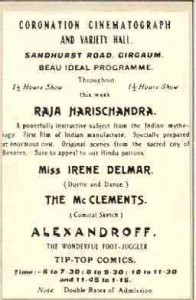 Dadasaheb was familiar with the visual arts. He had studied fine arts, worked as a photographer and had also photoprinted Raja Ravi Varma's paintings. Then in 1910 he saw the American silent film, Life of Christ, and was irrevocably won over to cinema. Ravi Varma used Western realism in his representations of Indian deities. And the Life of Christ dealt with the most epic of Western figures. They provided Phalke with a template for his films and the genre he invented – mythologicals.
Cinema at first was little more than 'moving photography.' Dadasaheb matured it into an art form in India. He fused cinematography with elements of theatre, set design and music (music was played during the film as an accompaniment) and used all of this to tell a story. This is why he is more accurately the father of the Indian 'feature' film. He was also his own cameraman, art-director, film processor and developer, editor, projectionist and distributor. And he was his own financier, pledging his all to make his first film. He also was the first to cast a woman in a film. Though not in Raja Harishchandra. He had wanted a woman to play Taramati in Raja Harishchandra and had found a sex worker willing to act. But one of her clients came and dragged her away from the set, blaming Dadasaheb of wanting to corrupt her !!!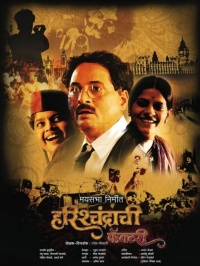 Phalke was a fool for cinema, a pagla diwana, but he was an artist. He initiated us into the mesmerizing power of image hitting us with immediacy in a dark room – In Raja Harishchandra, the raja takes off his crown, gets up from the throne and walks away with a confident smile as if giving up his kingship were nothing for him. Later he is with his family in a forest chopping wood. The beauty of the axe, the subtle noise when it hits the tree hits you too. The camera in a silent film forces you to 'see' the power of emotions, and shows you beauty where you do not usually look for it. Such as in the close-up of Harishchandra's feet while he enters a temple or the long shot of him swinging the axe to cut wood.
Dadasaheb Phalke had a very short career – 19 years in which he made 95 films! But his career, though productive, was rocky. Cinema soon became a lucrative business and Dadasaheb, given his temperament, found it difficult to submit to the demands of commercialism. He went into retirement in 1920 itself, leaving the film company he had set up to others. When it began floundering, he was persuaded to come back. Though not for long – he made his last film in 1937. The talkies had arrived and Dadasaheb had become 'obsolete'. He retired to Nashik where he died in February 1944, poor and forgotten.
Recently Paresh Mokashi directed a film, Harishchandrachi Factory in which he shows Dadasaheb's life and the struggle he went through while making Raja Harishchandra. He was awarded the Best Director award for this film at the Pune International Film Festival in 2009. The film resurrected a time and a great person long forgotten. If you want to go back to that time, pay your tribute to that person, you can see Mokashi's film. But if you want the taste and feel of silence, you must go to YouTube. We've checked. Raja Harishchandra is available.
More Photos