Saraswati Devi
(1912-1980)
UNLIKELY DEVI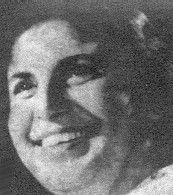 Saraswati Devi née Khurshid Minocher Homji. Sounds strange, doesn't it? Early 20th century Parsi women aspired to the status of gentlewomen. They wore Victorian style blouses, stockings and pearls. They were educated and practiced the art of conversation – in English if you please! And yet Khurshid Homji learnt dhrupad and dhamar and opted to work in the Hindi film industry.
But our incredulity does her, and the Parsis, injustice. Parsi theatre flourished in the late nineteenth and early twentieth centuries in Gujarati and in Urdu. Ardeshir Irani and the Wadia brothers were pioneers in early Hindi cinema. And Kaikhushroo Navroji Kabraji, a Bombay Parsi, founded the Parsi Gayan Uttejak Mandali(Parsi Music Promotion Society) in 1871. This was among the first public institution in India teaching Hindustani music, otherwise guarded within gharanas. V. N. Bhatkhande was a student there from 1884 to 1891.Given Parsi openness to Western culture, the Mandali held lessons in Western music too and it was here that Bhatkhande developed his system of notation which he subsequently applied to Indian music.
Khurshid's mother was secretary to the Mandali and it was here that Khurshid had her initial training. On Bhatkhande's advice, she later went to Lucknow's reputed Maurice Music College. On graduation, she was a proficient and accomplished musician.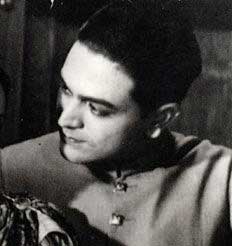 Khurshid Homji was Himanshu Rai's discovery. When Khurshid and her sister Manek first started work for him as music composer and actor, their decision created an uproar among Parsis. While it was true that some Parsi women worked, they were philanthropists, or educationists at most. How could the participation of two respectable girls in the disreputable film industry be condoned?
Times were changing, however, and upper class actresses such as Devika Rani, Shobhana Samarth and others had opted for careers in film. The film industry as a whole was lobbying for greater respectability and Himanshu Rai headed this effort. He interceded strongly on behalf of the sisters with the four Parsis who sat on the board of his film company, Bombay Talkies. His bhadralok background, Western education and marriage to the sophisticated Devika Rani must have worked because the necessary permission was obtained. But the girls had to take the screen names of Saraswati Devi and Chandraprabha.
The newly christened Saraswati Devi worked for Bombay Talkies from 1934 to 1941. She has several 'firsts' to her credit – She and Jaddanbai were the first two women composers for Indian cinema. And she was the first to introduce – and perform – playback singing in Bombay (it had already been introduced in Calcutta). This was in Jawani Ki Hawa (1934) and song in question was "Kit gaye ho khewan haar". The concept of Title music in cinema was also first conceived of by her, again for Jawani Ki Hawa.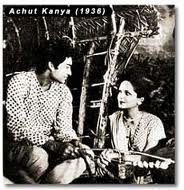 The thirties constituted the earliest phase in the development of Hindi film music.The 'socials' of the time, such as Achhut Kanya (1936), stressed the individual predicament and provided a context for films to move from conventional raga-based music to the 'song'. Saraswati Devi was among the first to plunge into these unknown waters. Achhut Kanya was her first major success. "Main ban ki chidiya"1 was the film's most popular song, sung by actors Devika Rani and Ashok Kumar after considerable tutoring on her part.
Saraswati Devi's tunes were extremely simple enabling non-singers like Devika Rani, Ashok Kumar and others to sing them. But they were nonetheless purposefully composed. A lot of them were catchy but she also composed the soulful "Koi hamdam na raha"2 meant to be sung by Ashok Kumar in Jeevan Naiyya (1936). But it was never used and Kishore Kumar's version of it inJhumroo is better known. The melody for this song was an adaptation of raga Jhinjhoti. All her tunes, despite their simplicity, were based on ragas creatively adapted to cinema.
Saraswati Devi thus made a considerable contribution to films and the adaptation of Hindustani music to the new audio-visual medium. She continued composing till the early 50s, though with diminishing success as trends changed. She passed away in Mumbai in August 1980.
More Photos