Begum Akhtar
(1914- 1974)
Hai Akhtari!
Deewana banaa na hai to deewana banaa de …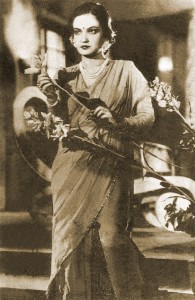 Begum Akhtar was among the last of India's great tawaifi singers. Her forte was the Urdu ghazal which she raised to the level of an art form. She set it to raga-based tunes which is now the accepted norm for its performance.
Akhtaribai Faizabadi, as Begum Akhtar was known before her marriage, was born in Faizabad, Awadh's old capital. She inherited from it a deep appreciation of Urdu poetry. Poets of her day wrote specially for her – Jigar Moradabadi, Shakeel Badayuni and Kaifi Azmi all formed part of her inner circle.
Akhtari was brought up by a single mother, Mushtari Bai, also a tawaif . She had a twin sister, Zohra, who died at the age of four. Love as pain is a constant in her music and stems perhaps from this early experience of loss.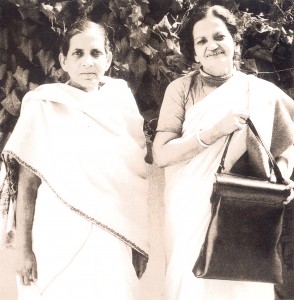 In the 1920s, while still a teenager, she acted on Calcutta's stage and sang at private mehfils. In the 30s she moved to Bombay where she acted in nine films1. In 1939 she moved back to Lucknow where she set up her salon (kotha). She also recorded a number of 78-rpm discs and was something of a celebrity in North India.
While in Lucknow she entered into a relationship with Ishtiaq Ahmed Abbasi, a lawyer from one of Lucknow's better known families. The 40s were a difficult time for Indian courtesans. An independent bourgeois India would soon be a reality and they were actively looking for avenues to live respectably within it. Marriage was one such avenue and Akhtaribai, audaciously, set her sights on Ishtiaq Abbasi. They got married in 1945 and she metamorphosed into Begum Akhtar. This brought in its wake imperatives difficult if not impossible for her to reconcile.
Some of the lesser known details about Begum Akhtar's life have now been revealed.2 It appears that Shanno, Akhtari's supposedly adoptive sister who was always part of her household no matter where she went, was the daughter she had given birth to at the age of thirteen. Begum Akhtar started drinking while in purdah and spent most of her time with her mother who still lived at her former kotha. But when her mother died a few years later she sank into a major depression and there were periods when she could not even rise from her bed. It was clear that needed to sing, which she did, except in Lucknow out of consideration for her husband.
Begum Akhtar's music soon became popular with metropolitan audiences and she spent most of her time in Bombay, Delhi and Calcutta. She became India's mallika-e-ghazal though her singing was far from technically perfect – her voice spanned a single octave and broke at a higher pitch. Its strength lay in its taseer (sound of the soul). And her style was so disarmingly simple that she connected with her listeners at once.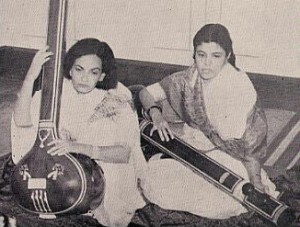 Begum Akhtar's renditions of the thumri and dadra were equally popular. They were interpreted in the traditional sringar or erotic rasa, shot through with her signature melancholia. Her style was contradictory – unashamedly sensuous, but refined and curiously subtle.
Begum Akhtar had a penchant for contradiction in real life too. She was mercurial, moving in a trice from melancholia to witty animation. She was also generous to a fault, showering gifts on her relatives by marriage for whom she always felt a sincere affection despite the gulf separating them. Her charm lay in her unreasonableness and she remained a seductive women till the end of her days.3
Begum Akhtar died of a heart attack on 30 October 1974 at the age of 60. Her genius has ensured an enduring place for tawaifi genres in contemporary Hindustani music to which she has bequeathed her era's refined aesthetic of sensuality and romance.
More Photos
1
Mumtaz Beghum (1934), Jawaani Ka Nasha (1935), King for a Day (1933), Ameena (1934), Roop Kumari (1934), Naseeb ka Chakkar (1936), Anaarbala (1940), Roti (1942), Jalsaghar (1958)
2
Shanti Hiranand, Begum Akhtar: The Story of My Ammi, Viva Books, 2005.,
3
http://melodyjunction.freeforums.org/begum-akhtar-the-queen-of-ghazal-t368-16.html
Videos
http://www.youtube.com/watch?v=W65A2OgG8c0
(ghazal)
http://www.youtube.com/watch?v=zrdv3g4r_sA&feature=related
(films division documentary)
http://www.youtube.com/watch?v=TMIgrFOYOHY
(begum akhtar in Satyajit Ray's Jalsaghar)