Raichand Boral
Long ago, there once was a musician called Rai Chand Boral…
(1903-1981)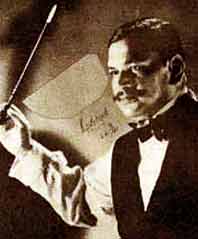 In the 1937 classic 'President', K.L. Saigal walks into a small house and sings a brilliant super hit. He looks out convincingly from a huge window pane and visually creates a huge mansion (bangala) which is on a hilltop and looks like a castle. The song's antara goes like this:
itana uncha bangala ho ye
maano gagan ka tara
jispe chadh ke indradhanush par
jhulaa jhule chand hamara 1
This poetry and these images have been immortalized in India. In more ways than one. Because the wistful longing for a bangala will strike a chord in the hearts of every poor soul in this country with its population that has crossed even the 1 bn mark. Except that in the present crazy urban rush who would even dream of a bangala. It would be beyond the limits of one's imagination. So the mukhda would need to be rephrased from 'ek bangala bane nyara' to 'ek 500 sq. foot flat bane nyara' keeping in mind the match-box sized and shaped apartments in India's dream cities.

Now the camera pans to that biggest of dream cities, Mumbai. It shelters the dreams and opportunities of millions of new generation actors, directors, singers and musicians. Peering through the window-panes of its buildings and panning into their small boxed rooms, one witnesses the passion and urge to make it big. We see the great spectacle of actors rehearsing their lines, directors conceiving a scene, writers penning down lyrics and singers practicing on the newly invented 'electronic' tanpura. There are also budding music directors discovering new tunes in their small box-shaped harmonium. Some know and some don't know the fact that Rai Chand Boral set the standards for a large part of all this way back in 1930s. He was the father of Indian film music.
Born in 1904 in Calcutta, Boral composed for about 150 films. He came from a musical family and was trained in Hindustani classical music at an early age. He learned dhrupad from Pt. Vishwanath Ray and tabla from Masitullah Khan. He had a deep knowledge of raga music and other genres such as bhajan, thumri and ghazal. He was a musician of note and attended music conferences at Lucknow, Allahabad and Banares. He met Mushtaq Hussain, Alauddin, Inayat Ali Khan and knew other eminent musicians of his time. Boral joined the Indian Broadcasting Co. in

the year of its inception, 1927. Later (1931) he shifted to the New Theatres Ltd. in the silent era for supporting the stage with live music. (Chaser Maye and Chorkanta)
Boral had an impressive 30-piece orchestra with musicians who would later make it big in films as instrumentalists such as Khemchand Prakash, Jaidev and Pankaj Mullick. He composed for hit films like President, Vidyapati, Devdas[Bengali], Street Singer, Manzil, Dhoop Chaaon and many more. But he was a conscious m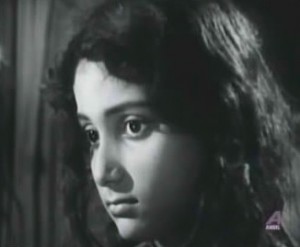 usic explorer who adapted traditional Hindustani genres to cinema to give immortal songs like 'ek bangala bane nyara', 'bhool na jana 2, 'More angney me aayo 3 and others. He also brought devotional and popular Bengali music into the world of Hindi film music. He played a major role in crystallizing what can be described as the 'Bengal school of Hindi film music' by dissolving the Hindustani style of singing into 19th century Bengali tunes.
Boral spent twenty years working exclusively for New Theatres. He composed music for Dena Paona, the first movie it produced. Boral also came up with the idea of playback singing and in the year 1935, implemented the idea for the movie Dhoop Chhaon, which was the Hindi remake of a Bengali film. The song, "Main Khush Hona Chahun", had an all women chorus led by Parul Ghosh with Suprova Sarkar and Harimati picturised in a dance sequence.
Boral played a huge role in shaping the career of the great K. L Saigal. Saigal was introduced to Boral in 1930 by Harishchandra Bali who was also a music director. Boral took to Saigal immediately because he managed to gauge the extent of his talent at once. The joint careers of Boral and Saigal accompanied the rise of New Theatres to the top rung of India's growing film industry. Kanan Devi another of New Theatres topmost actor-singers also worked extensively with him.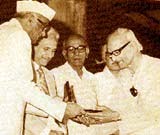 R.C. Boral worked with New Theatres for nearly two decades, his last famous film being Anjangarh, in 1948. R.C. Boral came to Bombay in 1953. After coming to Bombay, he composed music for Dard-e-Dil (1953) with Lata's songs4.
He received the national award, Sagar Sangam, in 1958 and the Sangeet Natak Akademi Award in 1978. He was also awarded the Dadasaheb Phalke Award in 1978 at the age of 75. He passed away in 1981. Anil Biswas called him the Bhishma Pitamah of Indian film music.
More Photos