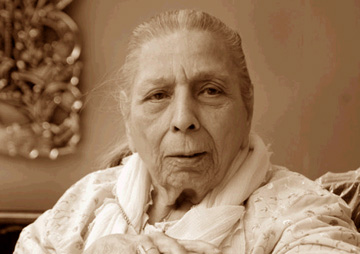 Who could have imagined, that the child who was discouraged to study music by her father , would go on to become one of India's leading Bollywood singer?
It was the 'queen of melody' Shamshad Begum who conquered million hearts with her mellifluous voice. An artist extraordinaire, she also received the prestigious Padma Bhushan award for her exceptional contribution to music industry.
Even as a little girl of 13, Shamshad ji, went to the music studio's wearing a burqa. The traditional little girl introduced music lovers to some of the most modern rhythms in the early forties itself. Though she initially began with singing for the All India Radio, it took no time for her voice to reach the film industry. And there began the melodious journey of songs like 'Kabhi Aar, Kabhi Paar', 'Mere Piya Gaye Rangoon' or one of my personal favorites 'Sunday Ke Sunday'.
Shamshad Begum, who with her bold, bright and boisterous singing went on to become the leading and the highest paid numero uno star singer of the forties and acquired the legendary status in the dawn of her career.
…….Manohar Iyer
Even though she became a singing sensation at a very early age, she could never pursue her dream of being an actress due to her conservative background.
On screen, or off screen Shamshad Begum would always be a star for her listeners.
Shamshad Begum was the queen of Bollywood in the 40s. Lata 's arrival was a turnaround from Begum's open voice and music directors now got the opportunity to create compositions since they had found a musical voice. Here's a small excerpt  which narrates this turnaround in the music industry:
 "Once Masterji (Ghulam Haider) was working all night at Bombay
talkies on the background music of a film. Even though I was not
feeling well, I sat right through that session, waiting until the
mood to compose the music seized him. If the singer wasn't patient
enough to wait for his mood, he would get up and go home. At three in
the morning the tune occurred to him and immediately he composed it
as Bedard tere dard ko sene se laga ke (for `Padmini'). By eight o `
clock we recorded the song and it was eleven when we went home.
I took this Lata quote in the exact form in which you have just
read it, to the supersinger she came to displace, Shamshad Begum, at
that lady's Ashley Villa home in Colaba, Bombay. And Shamshad laughed
it to scorn. "All those things might have happened exactly as Lata
says they did," conceded Shamshad, "but don't tell me Masterji was
looking at anyone beyond me as a playback, at that point of time, to
sing his best songs. I was his discovery and, where it came to a tune
treasured by Masterji and to be put over by a playback singer as
distinct from a singing star, the choice then had to be me and me
alone. Masterji was certainly one to offer new boices a chance and to
this extent, he might have given Lata a hearing. Lata was one of the
many voices that hopefully came to masterji those days for a break,
even while I was around as his number one choice. Lata might have
sung the odd songs for Masterji, but all this talk of her being his
discovery just does not wash with me. Who was Lata Mangeshkar then?"
                                                             Lata Mangeshkar – A biography: Raju Bhartan