We all have always known him as Pancham Da, but I have always wondered why was he called so? It was the theatre artist Ashok Kumar, who affectionately called him 'Pancham', because 'as a child he wailed at the fifth note of the Saptaswara'.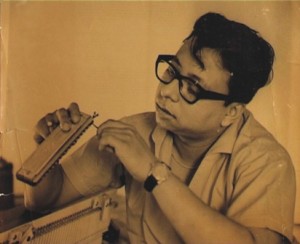 27th June 1936, marks the day on which, Music industry got this melodious genius. Befitting the term in every way, R.D Burman ji was truly a maestro! Even today, he is fondly remembered as Pancham ,Rahul ,R.D Burman or simply as Dada by his fans. Despite being the son of a great music composer, S.D Burman, he established himself through his hard work and dedication towards his art.
He began by assisting his own father S.D Burman's and worked with him throughout his years at the industry. In fact it is said that Pancham played a significant role in evolving some of the most compassionate tracks for the popular movie Milli.(1975)
Post the success of his film Tesri Manzil (1966), he never turned back. He endorsed thousands of hit films in his record as Aradhna, Kati Patang, Aap Ki Kasam, Yadon Ki Barat , Sholay, 1942 A Love Story, Andhi ,Amar Prem,Ghar,Masoom and a lot more.
What made Pancham's music truly magical was his technique and constant yearning towards introducing something new. He believed in treating all acoustic universe as a raw material for his compositions. Once he spent the entire night in his house's balcony to record the sound of raindrops for a song. Even in the very peppy number 'Chura Liya' he used the sound of a spoon hitting a glass. Such was his passion towards creating music……Isn't it simple marvelous?
Though he took music very seriously, humor was a very important element of his songs! Remember that song 'Ek Chatur Nar' from Padosan? Even in person, he reflected this sense of humor too. He was to be interviewed on the television by an interviewer, who had a knack of waving her hand to drive away flies. But she used to do it too stylishly, arousing suspicion that the flourish was employed by design as a camera-friendly gesture! At the time of the interview, R. D. therefore took a fly squatter as a gift for her.
Set to his compositions, and the melodious voices of the women on record of that era, were created, some of the most euphonious tracks of the music industry.
Let's hum to the melodious and evergreen tunes of his compositions! And remember him by singing Yaadon ki barat …..
Listen to this beautiful track, here:
Yaadon Ki Baarat